Prior to the forming of Brett/Robinson, brothers Tillis and Gene Brett began their real estate career by pooling their combined resources of $500 to form Brett Real Estate. They later partnered with builder Tommy Robinson to form Brett/Robinson in 1968.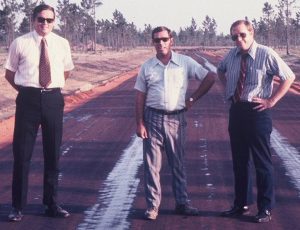 L to R: Tillis Brett, Tommy Robinson and Gene Brett taken in Spanish Trace.
Brett/Robinson is unique in that we list and sell pre-owned properties – residential, commercial and timberlands. Brett/Robinson has also built residential neighborhoods including Spanish Trace and Cherry Hill in Saraland.
Brett/Robinson is a full-time, full-services company with full-time professionals working 7 days a week to serve your real estate needs. At Brett/Robinson, experience, integrity and dedication are at your disposal.